Fujifilm FinePix XP130 waterproof camera
Call for Price
*
Price may change due to echange rate.
Basic Specifications:
Full model name = Fujifilm FinePix XP130
Resolution = 16.40 Megapixels
Sensor size - 1/2.3 inch (6.2mm x 4.6mm)
Lens = 5.00x zoom (28-140mm eq.)
Viewfinder = No / LCD
Native ISO = 100 - 3200
Extended ISO = 100 - 6400
Shutter = 1/2000 - 4 seconds
Max Aperture = 3.9
Dimensions = 4.3 x 2.8 x 1.1 in. (110 x 71 x 28 mm)
Weight = 7.3 oz (207 g) includes batteries
Availability = 03/2018
Fujifilm FinePix XP130 waterproof camera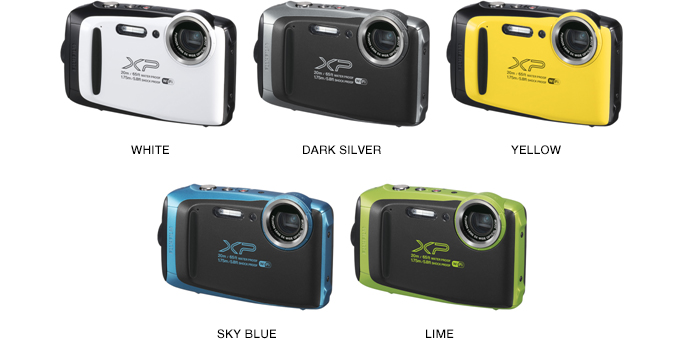 This is why you want the Fujifilm FinePix XP130:
Robust and lightweight design
Waterproof up to 20 meters depth
Bluetooth and wifi connectivity 


XP130 is robust, can take a beating:
The Fujifilm XP130 is designed for all kinds of outdoor activities. The camera has an excellent grip and is easy to operate with one hand. Even when you wear gloves. The battery compartment has a double lock. Furthermore, the XP130 is water and dust proof. So you do not have to worry if the camera falls into the water or gets dirty through sand and mud. So you can let the camera be used by your children.


Use the Fujifilm XP130 with your smartphone or tablet:

The XP130 is equipped with the latest bluetooth technology with very low energy consumption. Via Bluetooth you can easily transfer photos and videos to your smartphone or tablet. In addition, time and location data can be linked to photos. All you have to do is install the free Fujifilm Camera Remote app on your tablet or smartphone. The app is available for iOS and Android.


Excellent image quality and beautiful colors:

The FinePix XP130 is equipped with a 16.4 megapixel sensor and a 28mm wide-angle lens with 5 times optical zoom. With the Intelligent Digital Zoom technology this can even be extended to 10 times. Subjects are captured with the unique colors you know from Fujifilm. In addition, the camera is equipped with optical image stabilization so that blurred images are a thing of the past.


Large LCD screen of 3 inches with 920,000 pixels:

The high-quality 3-inch LCD screen has no less than 920,000 pixels. Unique for a compact and lightweight camera. The screen has a light-reflecting layer. So, under very bright lighting conditions, you can judge your photos well.


Unique electronic spirit level:

The Fujifilm FinePix XP130 is equipped with many useful and smart features. Unique is the new electronic level function. So you always have a straight horizon when photographing landscapes or a sunset.
Eye detection for sharp portraits:

The eye-detection function makes it even easier to take portrait photos. The camera automatically detects the eyes of the person portrayed and focuses on them.


Moving photos with Cinemagraph:

With Cinemagraph a still picture can contain moving elements. This offers the possibility for creating unique photos.


Fantastic timelapse recordings:
Make great timelapse recordings with the FinePix XP130. A series of photos is automatically converted into a short film.
Full HD video with 60fps:

Of course, a video function is not missing on the camera. With the Fujifilm FinePix XP130 you can make beautiful full HD recordings of all your activities. And it does not matter if they play above or below water.


Features of the FinePix XP130:

Robust and dust-proof design
16.4 megapixel CMOS sensor
5 times optical zoom
3 inch LCD screen
Waterproof to a depth of 20 meters
Fall resistant to 1.75 meters
Freeze-resistant to -10 ° C
Wifi and bluetooth connectivity

In the box:

The following accessories are included as standard:
NP-45S li-ion battery
AC adapter
USB cable
Wrist strap
Instructions
For orders under € 450 we charge € 25 order costs.
Prices shown on this website are before taxes, currency changes and shipping costs.
For an accurate price please contact our sales team at info@comm-co.com