FIELDBOOK E1 - FULL RUGGED TABLET - ANDROID
Android 4.2 powered Fully Rugged Tablet
The Fieldbook E1 is suitable for virtually every application in any environment. The IP 65 rating practically guarantees protection from all dust and liquids.
* Fully Rugged Tablet
* 10.1" HD Display
* Outdoor Viewable with Anti-Reflective Glass
* Integrated NFC/RFID Reader for easy wireless data transfer
* Android™ 4.2.2 (Jelly Bean) Operating System with Google Play
* Two standard cameras
* MIL-STD-810G and IP65 Certified
FIELDBOOK E1 - FULL RUGGED TABLET - ANDROID
With the FieldView™ Pro innovation the Fieldbook® E1 offers the best show in its class. Combining several techniques to improve the readability, the E1 display is perfectly readable even in direct sunlight. Firstly, a strong backlight is used to act contrary to the incident light. Furthermore, two anti-reflection filters are scattering the light to not to reflect it directly back to the user. In addition, we use optical bonding, wherein the gaps between the different display layers are filled up to prevent that at this point the light rays are refracted and reflected. Thus we obtain a higher transparency rate, which leads to an improved contrast ratio. Another advantage due to the optical bonding is that the stability of the entire display stack is improved.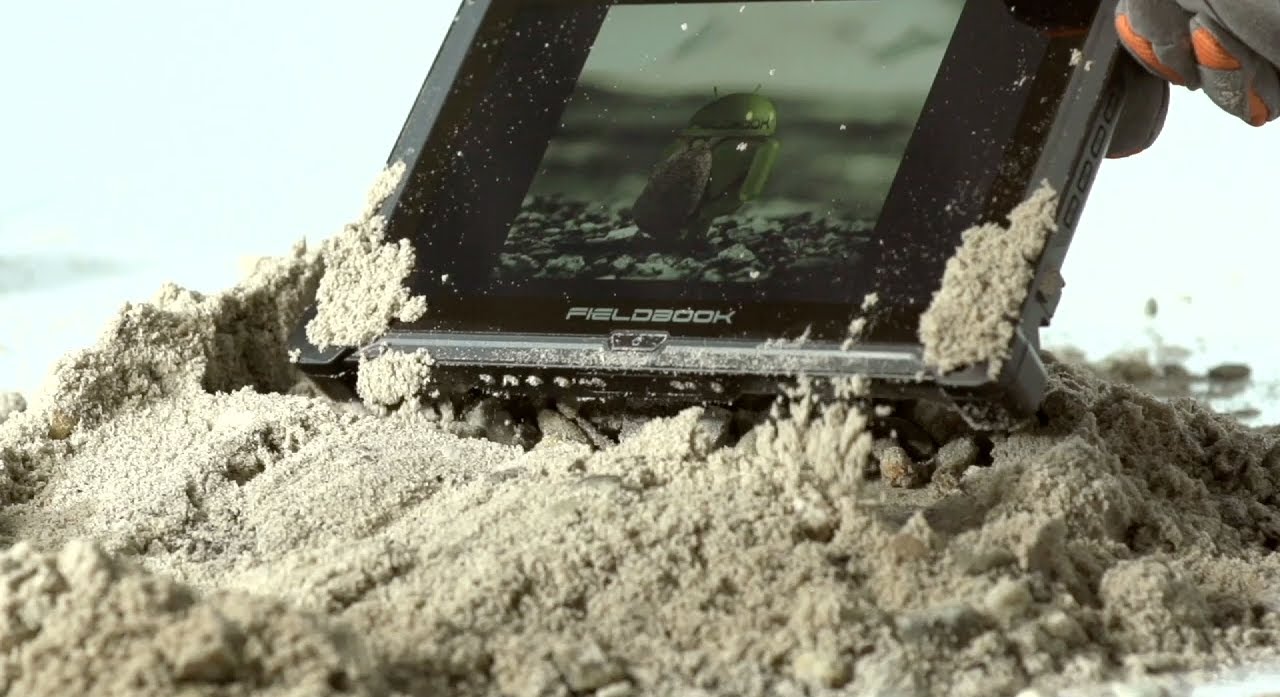 Specifications:
Operating System
- Android 4.2.2 (Jelly Bean) with Google Play
Processor
- Texas Instruments Dual Core Cortex A9 OMAP4460
- 1.2 Smart Cache: 1MB
- 1.5GHz
Graphics
- Integrated
Display
- 10.1" HD (1366 x 768) with LED backlight
- Best-in-class sunlight readable display - ECR 11.19 at 50.000 lux
- FieldView™ Pro Technology - 2 AR layers + optical bonding
- Supports «Stealth mode» (Speaker and LED lights disabled, display dimmed down to 0 Nits)
- Ambient light sensor for automatically adjusting of the display brightness
Memory
- Dual-channel LPDDR2 memory
- 1GB
Storage
- 32/64GB eMMC NAND Flash Memory
- expansion by Micro SD/SDHC slot
Integrated Communications
- WIRELESS LAN: 802.11 a/b/g/n
- WWAN: 4G/LTE (Optional)
- GPS: Integrated Module with antenna pass-through
- Bluetooth: 4.0
- LAN: 10/100/1000 Gigabit Ethernet (RJ-45) (Optional)
Ports
- 1x micro USB 2.0 OTG - support USB charging
- 1x audio jack for microphone and headphone
- 1x micro SD / SDHC
- 1x micro SIM
- 1x micro HDMI
- 1x DC-Jack
- 1x Docking Connector
- 1x MHL (Mobile High definition Link) pass through
- 1x GPS antenna pass through
- 1x RJ45 (Option, via bottom box on docking connector)
- 1x RS232 (Option, via bottom box on docking connector
Collaboration
- NFC RFID
- Integrated Speakers
- Microphone
- Integrated 5 Megapixel digital camera (rear-facing w/ flash) and geo-tagging
- Integrated HD Megapixel digital camera (forward-facing)
Sensors
- Ambient light sensor, accelerometer, gyroscope, e-compass
Touchscreen
- Polarized capacitive touchscreen
- 2 finger multi-touch
- Operable with gloves
Battery
- Internal Smart Lithium Polymer battery, 10000mAH, 3.7V
Up to 12h battery life
Power Supply
- AC 90V ~ 243V, 47~63Hz input; 12VDC@2A
Dimensions/Weight
- 28.7 cm x 18.9 cm x 2.8 cm (W x H x D)
- Weight: Starting at 1.08 kg
Downloads

FB-E1_Brochure comm-co.pdf
*Bij een bestellingswaarde van minder dan 450 euro komt er een klein bedrag van 25 euro bij!
Prices as shown on this store are indicational and subject to 21% tax,
currency changes and shipping costs. For an accurate and special price please call or e-mail our support.